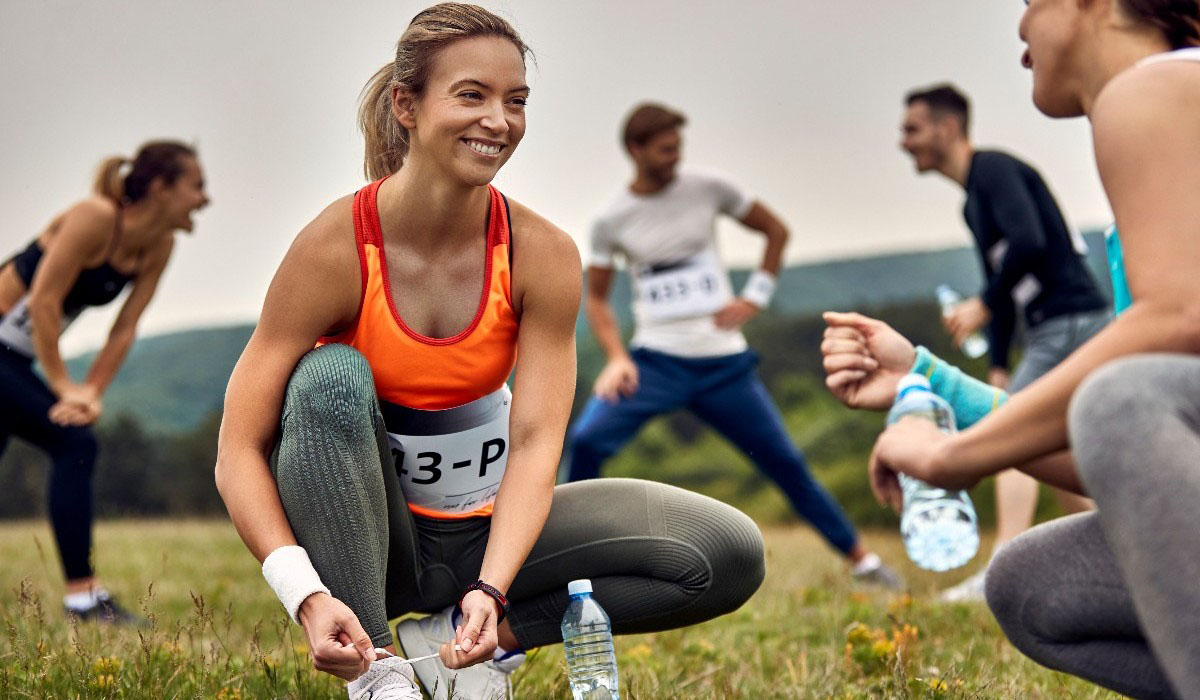 The Coach Generali Vitality Guide to: Starting to Train
The act of running isn't quite as easy as putting one foot in front of the other. Kit, diet, warm-up routines and training plans are key elements all runners have to consider. Here, running coaches Jo Wilkinson, Jonny Mellor and Miguel Baptista offer their insight and expertise to guide you along the road or trail. 
1. From top to toe – the essential kit
"Your basic kit remains the same even when you progress from the shorter distances to the marathon stage, even beyond," says Miguel Baptista. "The one thing I would recommend you consider as you make progress is a hydration vest. This will allow you to carry liquids that can give your body the energy it needs to cover those greater distances."
Your shoes are the most important part of your kit, regardless of how far or how fast you run. A good running store will be able to offer a gait analysis – where they will study your running style on a treadmill to ensure you get the right fit and size of shoes to suit your style. You should always run a few paces in the shoes you like to make sure they are comfortable and the right fit. The fit is critical to your stride and the general rule is that your shoes need to be half a size bigger than you normally take as your feet will swell as you run. It's often suggested you change your running shoes every 500-800 km, but that's not an absolute rule and it will vary from runner to runner. 
Your socks are also a key component and again, need to be half a size bigger than your feet. The right running socks will help avoid blisters and will wick away the sweat from your feet when you run. It's worth paying extra for a good pair.
Make sure your shorts and shirt are comfortable and don't chafe on longer distances, and if you're running early in the morning or late at night, clothing with reflective strips will make sure you're visible.
2. A to B and back again - finding the right routes and running plans
"In terms of finding the right route to train on, choose a similar surface to the one you'll run your race on for at least some of your runs," says Jo Wilkinson. If you'll be running a road race, train mainly on that surface but you can keep your training interesting and condition your legs by varying between road and footpaths, grass or trails. And if the race you're building up to run involves hills, make sure you include hills in your weekly running – you don't want any nasty shocks on the day." 
For beginners, the distance of each run should be in proportion to the distance of your race target. Ideally, if you run 2-3 times per week then you should aim to run one longer run and one or two shorter runs. As you get fitter and your legs get stronger you can switch one of the shorter runs to a mixed pace session.
5k race target
If your target is initially 5k, your shorter runs should ideally be 2-4km and may be a mixture of running and walking, determined by your fitness. Your longest run should build up to 5-6km and again, this may be a mixture of running and walking.
As you become stronger and fitter and if you want to improve your 5k time, you may wish to increase the distance of your longer run up to 8-10km. This will help you run faster and finish stronger in your 5k races.
10k race target
For a 10k race target, your midweek, shorter runs would probably be 5-6km and your longest run would be up to 10k. As you get better and more experienced, your longer run might increase to 10-12km or even up to 15km if you really want to run your personal best, as these longer runs give you extra endurance to hold your best effort to the end of the race.
Half marathon race target
If your target is half-marathon, you can still keep your midweek runs between 5k-10km but again progressively increase the longer run up to the half-marathon distance (21.1km).
Introducing mixed-pace running
Mixed pace running or intervals refers to running short distances at a faster pace than usual, with periods of recovery. A typical interval session for beginners might be eight one-minute runs with a minute's recovery, or five two-minute runs with one to two minutes recovery, and that recovery can be resting or an easy walk.
Intervals help you get fitter by raising your heart rate higher than usual and challenging your legs to move faster and your muscles to work harder – they're a great way to improve as a runner but you need to have established a foundation of fitness and strength before you do this. As you run faster and longer, you put more stress and strain on your legs and muscles, which can lead to injury if you're not ready.
3. The avoidance of injury – warming-up and cooling down correctly
All runners should warm up with an exercise that will raise the heart rate and get the aerobic system working effectively ready for you to run. This can be either easy jogging or brisk walking for 3-5 minutes, rising to 5-10 minutes as you get fitter.
"Include dynamic exercises to gently mobilize your key muscles – arm circles, leg swings and walking on toes then on heels are all good for this," says Wilkinson. "Then move onto mini jumps and single leg and mini hops on the spot, aiming to lightly 'bounce' on your forefoot rather than land heavy and flat footed. This helps you to develop a good forefoot footstrike as well as condition your feet and lower legs. I'd suggest finishing with some 'running specific' drills such as high knee raises and heel kicks."
Avoid static stretches as part of your warm-up as it has been shown that these can be counterproductive and potentially increase risk of injury. Save those stretches for your cool down. Going through a flexibility routine after you finish running can help ease your muscles and help return them to their original length – aim to hold each stretch for approximately 60 seconds.
4. Fuel for the fire – the right diet for your distance
"At every level of running, hydration is essential for performance and recovery, ensuring your muscles get plenty of nutrients to repair and rebuild," says Jonny Mellor. "Get into the habit of carrying a water bottle around with you and drinking from it throughout the day. On longer distances, electrolytes will help you replace the salts lost through sweating on summer runs and sports drinks are a good idea pre- and post-run or race. 
The main fuels for endurance training are carbohydrate and fats and your diet will need to reflect that. While providing a small amount of energy, protein is also beneficial for recovery and adapting to training.
If you move up to the longer distance events, fuelling pre-race becomes vital to ensure your glycogen stores are fully stocked, but it's vital to practice in training what you plan on doing on race morning to prevent stomach upset; every runner's worst nightmare. 
Energy bars and gels are full of easy-to-digest carbs, mostly sugar, which give you immediate energy, but only take these when you're running for more than an hour (and make sure you don't try one for the first time while out on a run, just in case they don't agree with you!)
If you're running to try to lose weight, don't fall into the trap of trying to starve yourself or limit calories. When training hard, eating too little will prove counterproductive to performance; you'll start to notice a lack of energy and you won't recover as quickly between training sessions. It also compromises your immune system, leaving you open to illness. Remember, when you're in training, calories are fuel for the fire, so it's OK to treat yourself!
Back to Moodboard