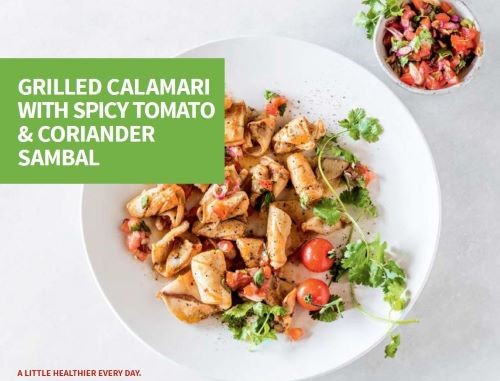 Grilled calamari with spicy tomato and coriander sambal
6 servings
55 min
Are you looking for an idea for dinner? Try out our easy homemade calamari recipe: grilled calamari with spicy tomato and coriander sambal.
Have you ever ordered calamari at a restaurant and noticed how quickly it was served? Some people may be reluctant to cook it at home, but it is actually an easy-to-make seafood dish. You do not have to be a skilled chef to make great tasting calamari!
Indeed, cooking with squid is quick and easy. Found in every ocean, squid is the most widely available seafood in the world and one of the cheapest. And it can be grilled too.
In addition, it is really healthy. You are probably already aware that eating fish in general is good for your health. But, what you may not know is that squid nutrition profile makes it a good addition to a heart-healthy diet.
Indeed, squid supplies certain nutrients that protect your heart, help keep your blood pressure normal and help keep your cholesterol within a normal range.
This dish is fabulously rich and delicious. It is light and can be matched with a smooth, citrus-leaning white wine.
Try it yourself. Buon appetito!
INGREDIENTS
500g calamari tubes
15ml olive oil
½ tsp sea salt
1 lemon zest
1 chilli, deseeded and chopped
Sambal sauce
2 tomatoes
Small bunch coriander
1 chilli, deseeded and chopped
2 spring onions
15ml olive oil
10ml lemon juice
Pinch salt and pepper​
METHOD
Seed and finely cube the tomatoes.
Slice the spring onions thinly at an angle. Place in the same bowl as the tomatoes along with the deseeded chopped chillies.
Roughly chop the coriander so that the leaves are still rustic and add to the bowl. Add olive oil and lemon juice and give a stir. Season with salt and pepper.
Slice each calamari tube in half and carefully score lines into the inside to ensure the tubes curl up when placed in the pan.
In a bowl, place lemon zest, deseeded chopped chilli, calamari, olive oil and black pepper. Allow to marinate for about 20 minutes.
Heat a pan and add seasoned calamari in a single layer to the pan.
Cook for about 1 to 2 minutes each side. The tubes will curl up and have a bit of colour, but should not be brown and tough.
Serve calamari warm with the tomato sambal.
Back to Moodboard