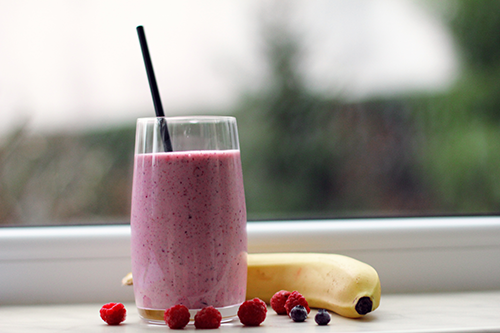 Breakfast Smoothies
3 servings
10 min
Eating well is a good form of prevention as it will help you to enhance your immune system, to stay healthy and make you feel full of energy, and feel good. Experts recommend to consume a diversified rage of food, and there is no better season than this spring for fresh fruits and veggies, which are rich in vitamins.
Most of us are working from home, so we should also try to value this time with children and family. Try to find time to prepare yummy homemade dishes and if you have children try to involve them in preparing meals and show them how much fun it can be. 
So, now that you probably have a bit more time in the morning, why don't start with this colorful and full of nutrients strawberry breakfast smoothie? It will be fun and it is the ideal day to start your day with the right boost of energy.
INGREDIENTS
1 apple, grated
200g strawberries (replace with mango, berries, pineapple for variation)
1 banana
1 tbsp almond butter or peanut butter with no added salt or sugar
3 tbsp oat bran
1 cup low fat plain yoghurt
½ cup low fat milk
1 tsp honey
METHOD
Place yoghurt, milk, oats and nut butter in a food processor and blend until smooth for about  minutes.
Add the fruits and honey and continue blending for an additional 3 minutes.
Pour into chilled glasses and serve chilled.
To produce chilled smoothies easily, use frozen berries or freeze the banana the night before.
Back to Moodboard